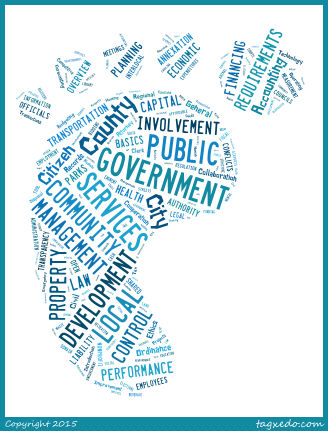 Please note...
This site welcomes a variety of viewpoints and perspectives on community engagement. Ideas shared here should not be considered as being endorsed by the UNC School of Government in any way as the School is nonpartisan and policy-neutral.
"I never dreamed I would be expected to know so much about so many different topics!"
–  A newly elected county commissioner
There is the "What" of public work, and then there is also the "How" of it.  Success as any kind of public leader – as staff or as appointed or elected officials – requires mastery of both the art and science involved in the topics and processes of local government.
The Science of Managing Public Work:
Legal boundaries and responsibilities clarify the expectations and scope of the work.
Success requires that the necessary work be defined, planned, implemented, evaluated, then adjusted for improvement.
The Art of Managing Public Work:
Collectively, each board or work group has its own culture, which will change as members come and go.
Individually, each member of every board or work group has a unique personality, learning style, communication preferences, skill set, and interests.
Blurring Both Art and Science:
Daily practices demonstrate how or whether espoused principles, such as "transparency" or "financial stewardship," are being used in meaningful ways.
Every decision is networked, touching other issues, plans, values, or processes.
Given that effective public leaders successfully manage both the art and the science of their work, they tend to stay on the look-out for legal, practical, and social resources to use. One comprehensive resource is County and Municipal Government in North Carolina.
To be user-friendly, the recently released second edition offers the option of purchasing any of the individual chapters or the whole publication. The content ranges from conceptual to legal to practical and covers forty-six topics.
On the "science" side of content, there are chapters that address particular areas of expertise ranging from open meetings law to the duties of particular departments.
Do you want legal boundaries clarified for your next construction project? Check out page 415 for the "Dollar Thresholds in NC Public Contracting Statutes."
Contemplating exercising your county's right of eminent domain to expand the airport? Chapter 24 explains how that process would work.
Trying to understand the personnel implications for consolidated human service agencies? Chapters 13 and 38 provide key pieces to that complex puzzle.
Similarly, the "art" side of content addresses processes such as citizen involvement (Chapter 10) and functional relationships that cross organizations to address a wide range of shared interests (Chapter 11, 12, and 27.)
Whether you are seeking the details in one particular situation or an overview of how local governments work, County and Municipal Government in North Carolina is a resource worth checking out.